Viruses can be extremely damaging to both your devices and organisation. A computer Virus is a piece of code that can cause damage to a PC – as a type of Malware a Virus differs from Malware:
Malware is considered an overarching term for code or programs that cause harm to a computer, network or server. Malware describes every type of Virus however Virus does not describe every type of Malware. Viruses spread inherently different to other forms of Malware such as Worms thus making them unique from the general term of Malware.
What types of Viruses is there?
Boot Sector Virus –
Boot Sector is loaded when a operating system such as Windows first starts up – therefor a Boor Sector Virus is loaded at the same time. A rare form of virus that usually depended upon USB drives, CD-ROMS or floppy disks to infect a device. Nowadays this form of Virus can attach itself to emails.
Direct Action Virus –
Direct Action Viruses are generally designed to pass through a device. Often referred to as a simplistic form of attack. The Virus will infect a device spread to the files and then delete itself. This form of attack is often spotted and stopped easily.
Resident Virus –
Often harder to detect than Direct Action Viruses, Resident Viruses can infect the RAM of a PC. Meaning it is much harder to not only detect but remove. Even once removed the impact of the Virus can still be noticed. This type of Virus can be fast acting or slow. It can delete files or make them larger. Resident Virus can make files so large the PC is unable to run. Resident Viruses can be somewhat unpredictable.
Multipartile Virus –
A very versatile Virus – Multipartile Viruses can infect both files and boot sector. Meaning an individual could be fooled into believing all infected files have been removed only for them to be reinfected upon launch of the boot sector.
Polymorphic Virus –
Polymorphic Viruses are defined by a Virus that changes to avoid detection. Often very hard to remove and can spread in unusual ways.
Macro Virus –
Macro Viruses are code written to infect Word, Spreadsheets and other forms of Macro Documents. Often sent in emails with attached documents that need to be downloaded. Similar to a Trojan horse however spreads differently.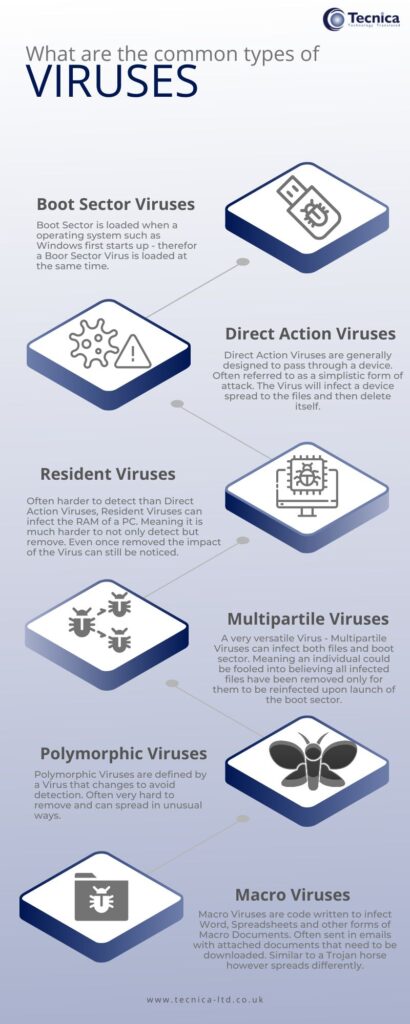 How to protect from a Virus?
Defending your organisation from the ever growing severity and complexity of cyber attacks is a difficult task. At Tecnica our certified consultants take an holistic approach to IT Security. Tecnica IT Security offers comprehensive protection and prevention from cyber threats whilst preparing your organisation for the off chance that an attack was to take place.
With a wealth of over 35 years of experience our consultants are dedicated to ensuring your organisation is secure from cyber attack. Our clientele across Scotland trust Tecnica – as a part of their organisation – with the critical task of keeping their organisation secure. To discover how your organisation could be better secured visit: Cyber Security Services Scotland – IT Security – Tecnica Ltd (tecnica-ltd.co.uk)