Many organisations struggle with the decision to outsource their IT and making the decision can be tricky but the benefits to be had are great. What are the top reasons to outsource your IT?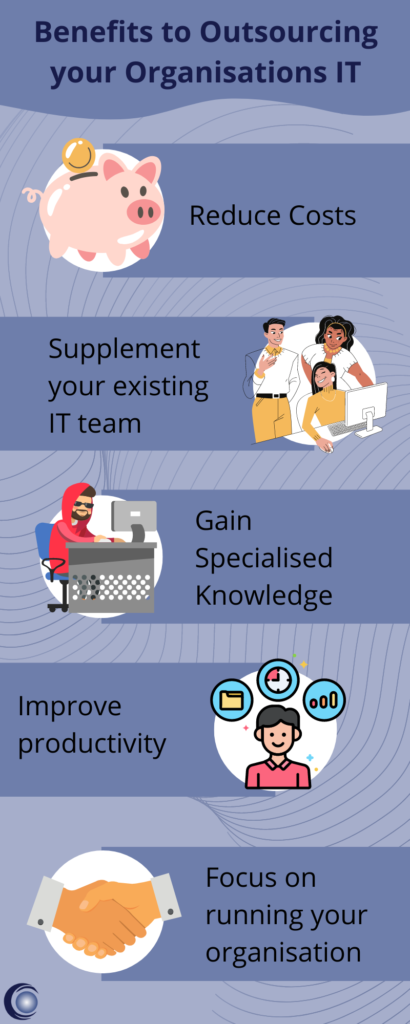 Reduce Costs
Having an in house IT Support team can be expensive for organisations and sometimes unnecessary. Having an employed IT member can be costly and ineffective especially within smaller organisations compared to outsourced IT. Some organisations take the approach to use outdated systems as an alternative to investing in IT and struggle to get by with a small team of sometimes overworked individuals. However this leaves the organisation open to potential Cyber-threats which is costly in itself. Outsourcing your IT allows you to have a reduction in cost and effective IT Solutions that are secure and up-to-date with the latest technology.
Supplement your existing IT Team
If you have an existing IT support team in house your organisation could also benefit from supplementing with an outsourced IT provider. Whether it be due to staff sickness or holidays there could be times where your organisation finds itself short-staffed. Your organisation could be 'testing fate' – a serious IT issue could hit during these short-staffed periods and could result in a critical IT failure that is unable to be fixed until staff members return. Even in times of full IT team attendance if your team is small you could be lacking critical knowledge in specialised areas. Outsourcing those areas could be cost effective and provide extra security and usability to your organisations IT infrastructure.
Improve organisation productivity and response rates
Having an IT team in house can be costly and the resulting situation that often occurs is the team is under-staffed and overworked. Which in turn negatively impacts productivity across the entire organisation. There may be times where employee's have to wait hours or days on a fix which impacts their ability to complete their work effectively at no fault of the IT team in house. Outsourcing IT to Tecnica ensures a fast response time and mostly a first time fix. Saving your organisation precious time.
Gain specialised knowledge
With a wealth of over 35 years of experience and a depth of knowledge in many areas of IT. Tecnica are able to resolve IT frustrations other IT professionals were unable to. We specialise in areas such as Managed Services, Cloud Services, IT Security, Professional Services such as IT Consultancy and Solutions such as VoIP Phone Systems. Our consultants have a depth of knowledge somewhat unique to Tecnica compared to other IT service providers.
Focus on running your organisation
With all IT frustrations resolved your organisation can get on with what it does best. The focus is no longer on struggling IT services crumbling. Your employee's have the tools to effectively and productively to their role to their full potential.
Tecnica offer a vast range of IT Solutions and Services throughout Glasgow, Edinburgh, Aberdeen and Scotland. We can deliver an IT Solution and Service that will not only resolve any prior IT Frustrations and meet all your organisations requirements but exceed your expectations. To discover our Tecnica guarantee visit: Tecnica IT Support & Managed Services Scotland Fife Edinburgh Glasgow (tecnica-ltd.co.uk)
To discover Tecnica Outsource your IT services and solutions contact us at: https://tecnica-ltd.co.uk/