The benefits of App Development can be huge, what can they do for your organisation?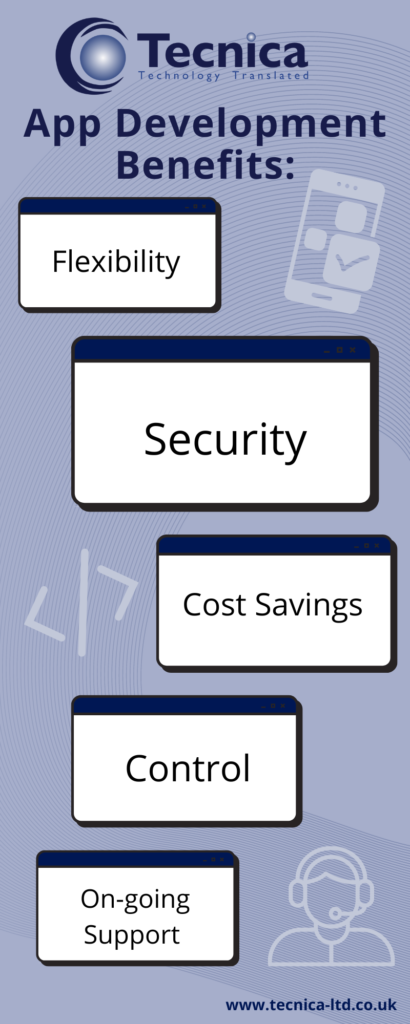 Flexibility
Bespoke App Developments offer excellent flexibility for organisations. Off-the-shelf software solutions can often partially resolve an issue but not fully. Tailored App Development offers the benefit of a solution that can be molded to fully resolve any prior frustrations.
Security
Security is assured with Tecnica App Developments. Data loss or data breach is a serious problem organisations face. Creating an App with security at the forefront can help prevent data breaches from occurring. Taking extra precautions to secure data save your organisation from the potential reputation loss and cost of fines. Both of which can be costly.
Cost Savings and Increased Productivity
Aside from the potential savings from keeping data secure there is also other aspects that may save your organisation costs. The initial up front cost of the App Development is recovered from the potential savings from increased productivity through streamlined systems. Users do not have to use multiple systems to complete one simple task. Nor have to have to be concerned about compatibility between different software. Tecnica App Developments are created to be user-friendly and improve productivity.
Collaboration and Control
During the process of Design, Implementation and Support we encourage collaboration between Tecnica App Developers and the client. Our App Developers listen, take feedback and act. We create Applications with our client at every stage of the process and continually ask for feedback. We create solutions that fully meet our client's requirements and exceed their expectations.
On-going Support
Our App Developers are dedicated to the Applications created. We provide on going support that insures your App will continue to work for your organisation. Off-the-shelf software often has outsourced call centre support which can be difficult in many ways. Tecnica support is a phone call away through to a dedicated support agent with little to no wait. Meaning your organisation can get the required support effectively and efficiently minimising any potential down-time or loss in productivity.
Ownership of Software
The majority of off-the-shelf software now is pursuing a subscription model. Meaning your organisation never owns the software it is using daily. This opens up the opportunity for the subscription to raise its prices, go bust, change its terms of service or even discontinue the service your organisation relies upon. This in turn can cause a lot of disruption, potential down time and impacts organisational productivity.
With the benefits of App Development explained, what is the Tecnica App Development process?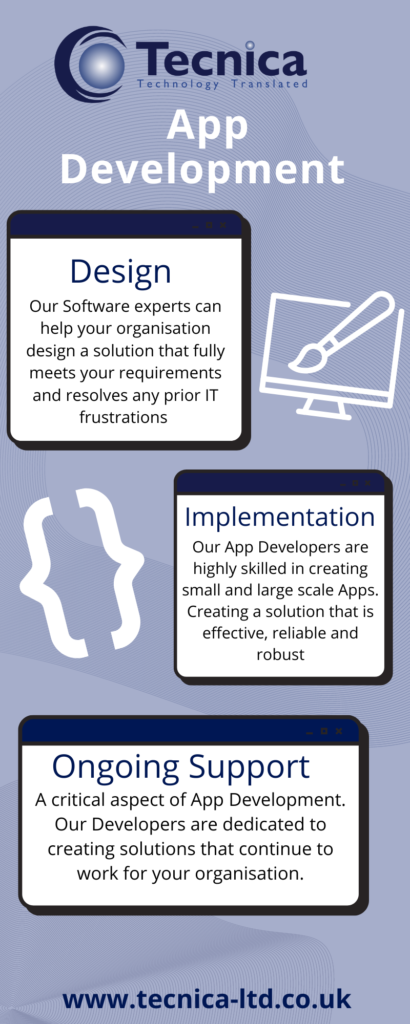 Design
We collaborate with your organisation to fully understand your requirements. We discuss the final outcome, what the organisation requires, would like and what your organisation doesn't want. We take your organisations concept and improve upon that. Our expert designers and developers are dedicated to delivering innovative solutions that fully resolve all of your prior IT frustrations and exceed your expectations whilst maintaining a user-centered approach.
Implementation
When creating Tecnica Solutions our expert Developers are focused on creating clean, efficient and effective code that is secure, robust and reliable. Minimising on any potential bugs and errors that could arise in the future and maximising your organisations productivity.
Support
Tecnica are offer leading support on all of our Services and Solutions. In the rare event that a bug or issue does arise with your software we provide on going support. Our App Developers are dedicated to delivering Apps that continue to work for your organisation.
Tecnica offer excellent App and Web Development Solutions in: Glasgow, Edinburgh, Perth, Aberdeen, Inverness, Stirling, Lanarkshire, Fife and throughout Scotland.
We offer a range of tailored Sharepoint services which offer the flexibility and some of the control of a complete bespoke application. To discover more visit: SharePoint Development – Professional Services – Fife, Scotland (tecnica-ltd.co.uk)