Malware takes many forms, including Ransomware, Viruses and Trojans to name a few. Malware is a form of malicious software which can cause critical damage to a PC. But what steps can be taken to prevent a Malware Attack and protect your organisation from the detrimental effects a cyber attack can have.
How can I fall victim to a Malware Attack?
Even the most knowledgeable in the Cyber Security field can fall victim to a Malware attack. There is many common approaches criminals take to fool their victims such as:
Malspam – a malicious email campaign that sends emails to a list of random individuals with infected PDFs, links and files on the off chance someone may open it. When someone opens the email they are bombarded with further emails of the same content and if they were to accidentally open any files in these emails there device would become infected
Malvertising – a form of adverts that can connect a users computer to an attackers server and distribute an attack with little to no user interaction. Meaning a user can be infected without even clicking on an ad.
Spear Phishing – more targeted email attack than Malspam. Spear Phishing may create an email stating a CEO wants a user to complete an action such as a survey or open a file. When the user opens the link or file the user's device is now infected. Social Engineering is a critical factor within this type of attack.
Potentially Unwanted Programs (PUP) – a form of attack in which the user is fooled into downloading unwanted files. These files attach with legitimate files, so the user unknowingly downloads and installs. Encountered when downloading files from un-trusted sources but there has been instances of PUP attached to software downloaded from Google Play Store.
Social Engineering – This can take place within all forms of attacks. Attackers can often impersonate FBI agents, co-workers etc to convince an individual to open malicious content. A common route attackers take is to use someones social media presence against them, creating a message that seems legitimate and convincing a user to open it.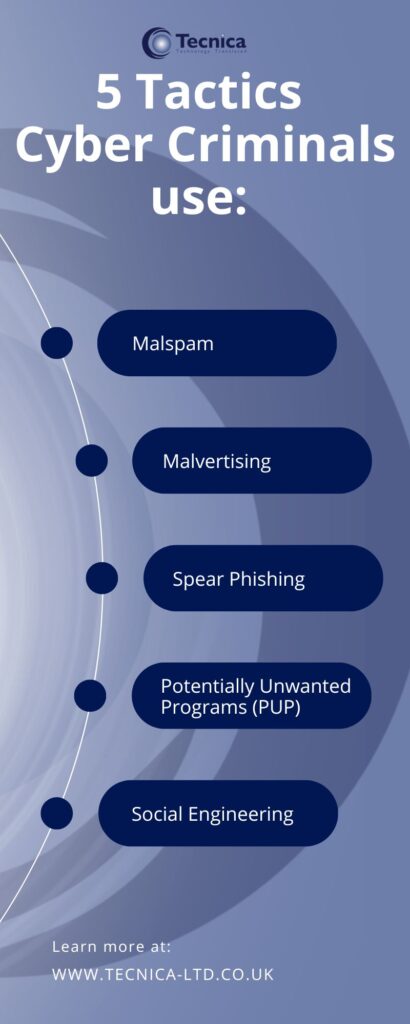 It is easy to fall victim to these attacks. Cyber Criminals are increasingly developing their attacks to be more sophisticated and more targeted. Falling victim to these attacks can cause great distress, financial loss and reputation deterioration. Organisations can be fined for the loss of data due to a Malware Attack.
There are many forms of Malware Attacks such as: Viruses, Ransomware, Trojans to name a few.
How to prevent a Malware Attack:
There are a few steps you can take to minimize the risk of Malware infection such as: avoiding opening emails or files from unknown contacts, only downloading software from reputable sources and keeping all hardware and software current. It is critical to always be aware of the potential of an incoming Cyber Attack. As Malware attacks are becoming more sophisticated it is increasingly becoming more difficult to avoid falling victim to the scams. Even Cyber Security Experts have been known to fall victim to a scam.
Once Malware has infected a device it can spread to others. Tecnica offer comprehensive IT Cyber Security Solutions to prepare, protect and prevent from an attack and if a Malware Attack was to take over a device our certified consultants have the expertise to respond to the attack and restore critical files. To discover more contact us today or read more at: IT Security – Scotland, Fife, Edinburgh, Glasgow, Aberdeen, Perth (tecnica-ltd.co.uk)